http://www.romariaacavalo.pt/wp-content/uploads/2018/04/xviiiromariacavalo.png
173
492
Paulo
http://romariaacavalo.pt/wp-content/uploads/2018/03/logo-300x169.png
Paulo
2018-04-24 13:34:56
2018-04-24 13:34:56
Transportes Romaria 2018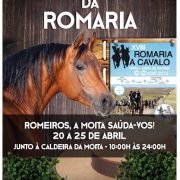 April 25, at 9:00 am, at the Parish Church of Moita
Departure from the pilgrimage on horseback Moita – Viana do Alentejo
It is already on April 25th, at 9:00 am, that hundreds of pilgrims, on horseback or in chariots, depart from the Moita village, towards to Viana do Alentejo integrated in the XVIII Pilgrimage on Horseback Moita – Viana do Alentejo, which ends on April 29.
For four days, the pilgrims will travel the 150km that separate these two counties, by dirt roads, by the old "Canada Real", and it is expected to arrive in Viana do Alentejo on the afternoon of April 28. In spite of the religious character in its genesis, nowadays, Pilgrimage on Horseback takes on a more playful side, of socializing among the pilgrims, who travel from all over the country and abroad to participate in what is already considered the greatest equestrian event of its kind at the national level.
This initiative is promoted by an organizing commitee, made up from municipal councils of Moita and Viana do Alentejo, Association of Romeros da Tradição Moitense and the Equestrian Association of Viana do Alentejo.
Pilgrimage festivity: from april 20th to 25th, in Marginal da Moita
In order to receive, in a festivity atmosphere, the pilgrims who arrive at Moita's village for the Horse Riding, Moita Council promotes the Pilgrimage festivity, between April 20th and 25th.
This Pilgrimage Festivity will count on gastronomy (tasquinhas,fumeiro and doçaria), handicrafts, children's amusement and musical animation, and will take place on April 20th , between 21:00 o'clock and 24:00 o'clock , on the 21st, from 10:00 a.m to 1:00 p.m, on the 22nd, from 10:00 a.m, to 24:00 a.m, on the 23rd, from 14:00 a.m to 24:00 a.m , on the 24th, from 14:00 a.m to 1:00 a.m, and on April 25th, from 9.00 a.m to 12:00 p.m.
Pilgrimage Festivity Entertainment Program:
Friday, day 20th
    21:30h – Musical Performance – David Rosa
Stage
Saturday, day 21st
                16:45h – Festival de Folclore da Região Caramela
                               Republic Square
19:00h – Solemn Mass with the presence of Nossa Senhora da Boa Viagem image
                               Parish hall
                20:00h – Ceremony on horseback of the Pilgrimage Presentation 
                                Ruas da vila da Moita: saída do Salão Paroquial – Rua São Sebastião – Rua João da Nova – Avenida Dr. Teófilo de Braga – Praça da República
                               – Rua Machado Santos – Rua São Sebastião – Avenida Marginal – chegada ao Pavilhão Municipal de Exposições
                21:30h – Musical Performance
Banda do Zé Bacalhau
                               Stage
Sunday, day 22nd
21:30h – Sevillanas Show
Siempre a Bailar
                               Stage
Monday, day 23rd
21:30h – Musical Performance
 Banda Musical do Rosário
                                Stage
Tuesday, day 24th
21:30h – Musical Performance
 Fiesta Lusa
                                Stage
Fair animation, by Tuna mista Académica da Escola Superior de Saúde do Instituto Politécnico de Setúbal  – Semper T´unes
To obtain statements, interviews, or any other additional information, please contact:
Gabinete de Informação e Relações Públicas
Câmara Municipal da Moita
Tlm: 912 214 692
T: 21 280 67 15
http://www.romariaacavalo.pt/wp-content/uploads/2018/04/Partida-da-Romaria-e-Festa-da-Romaria-1.jpg
720
511
Paulo
http://romariaacavalo.pt/wp-content/uploads/2018/03/logo-300x169.png
Paulo
2018-04-20 13:55:05
2018-04-24 11:01:40
Pilgrimage on Horseback Departure and Pilgrimage on Horseback festivity
The President also knows that we have tradition waiting for him – XVIII Romaria a Cavalo na BTL 2018.
http://www.romariaacavalo.pt/wp-content/uploads/2018/03/28699185_1673519339361041_403451786934743772_o.jpg
1080
1440
Paulo
http://romariaacavalo.pt/wp-content/uploads/2018/03/logo-300x169.png
Paulo
2018-04-03 16:29:22
2018-04-24 09:43:24
Republic President supports the Pilgrimage on Horseback
Inscrições
210 816 910
266 930 025